Restaurants
Jasper Alberta has a range of restaurants to rival any resort town and the quality of dining options are sure to impress any hungry traveller. For breakfast you may feel like trying a coffee and one of the amazing muffins in the local bakery, while for lunch a burger or a steak might be a good option. For dinner you could splash out on the fine dining experience or maybe go for sushi.
Whether you feel like filet mignon with pesto and goat cheese, fresh seafood, or the best pizza in town, there will definitely be a restaurant in Jasper that will hit the spot!
Featured Restaurant - The Jasper Brewing Co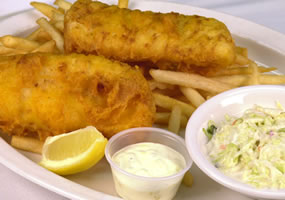 The Jasper Brewing Co is the only brewery in a Canadian National Park, and as you might expect it has a superb selection of fine ales, including Sutter-Hill Pilsner, Honey Bear Ale, and 6060 Stout. The menu is pub style with classics such as Brew Pub Nachos, Voodoo Wings, a good selection of burgers and sandwiches, Beer Battered Fish & Chips, and Maple Beef Sirloin. Choose between a booth in the dining room or sit at the bar in the pub, with big TV screens showing sport.
624 Connaught Drive,
Jasper, Alberta
780 852 4111
For more information, visit the Jasper Brewing Co. website.
To see some other favorite Jasper restaurants, please choose from the list below.
Canadian Restaurants
Italian Restaurants
Delis & Bakeries
Chinese Restaurants
Fast Food
Fine Dining
Japanese Restaurants
Mediterranean Restaurants
Steak Restaurants
Pizza Restaurants
Pub Food